Reliable Electrical Services
Back's Electrical for quality residential electrical services in the Blue Mountains and Penrith
Reliable Electrical Services
Back's Electrical for quality residential electrical services in the Blue Mountains and Penrith
Do you need a reliable and experienced electrician for your home? Back's Electrical provide quality
electrical services and solutions for homes in the Blue Mountains and Penrith.
For all electrical emergencies call Back's Electrical. We are available 24/7 to help fix your electrical emergencies anywhere in the Blue Mountains or Penrith areas.
Back's Electrical have level 2 certification and can provide installations, repairs and maintenance work on overhead and underground services, including power poles, switchboards and meters.
Quality electrical work through dedication
Back's Electrical is proud to offer high quality electrical services that will meet your budget. Our electricians are on call 24/7 to handle any electrical emergency at your home. Back's Electrical services both the Upper and Lower Blue Mountains in NSW, including the Penrith and surrounding areas.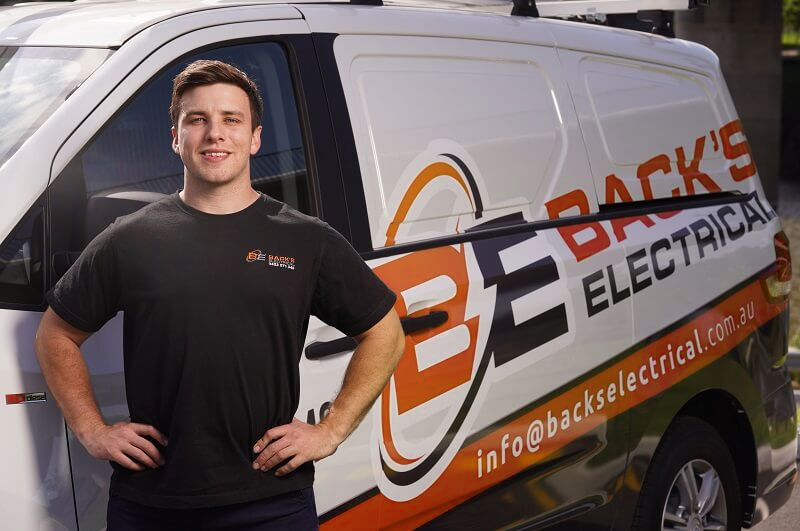 Locally Owned and Operated Electrical Services in the Blue Mountains
Back's Electrical is a locally owned and operated electrical services company with many years experience. All our electricians are fully licensed and equipped to handle any type of residential electrical project. We proudly provide high quality electrical services to the Penrith and Blue Mountains areas of NSW, offering:
What our customers are saying...
"Back's Electrical were friendly, professional electricians. Not only did they come out on time, they provided invaluable advice. The work was done efficiently and they even cleaned up afterwards. I highly recommend them."
⭐⭐⭐⭐⭐
"Brandon was great he came out and got the power back on quickly and made sure that our power box was safe. " ⭐⭐⭐⭐⭐
"Very friendly and explained the job well. " ⭐⭐⭐⭐⭐
"Brandon from Back's Electrical came out and installed new lights and ceiling fans in my outdoor entertainment area. He was polite, friendly and did a great job. I would call him again for any electrical job. "⭐⭐⭐⭐⭐
10 reasons why we have a 5 star rating
Adding lights or upgrading your lights to LED to transform your home's look and functionality, and reduce energy costs.
Exposed wires, no power…whatever your electrical emergency we can help! Call 0423 071 049 for 24/7 electrical assistance.
Keep your home cool and increase air flow by installing or upgrading your existing ceiling fans, both indoor and outdoor.
For extensions or older homes. Upgrade to safer, more efficient electrical wiring to keep your home and family safe.
Upgrade with RCDs, new earthing and circuit breakers to minimise risk of electrical emergencies and fires in your home.
Keep your family and your home safe by calling us to test, install or replace your smoke alarms and ensure legislation compliancy. 
Why Choose Back's Electrical?
Being locally owned, Back's Electrical takes pride in offering quality and affordable electrical services to the Upper and Lower Blue Mountains in NSW, from Penrith to Mount Victoria.

We provide high quality and professional electrical services with a smile.

24/7 Emergency Electricians
Call for electrical emergencies any time, day or night.

Take advantage of our special senior's discount. Receive 10% off your total bill.
Contact Back's Electrical Today